Project Description
The New Doha International Airport (NDIA) positions Doha and Qatar as a leading aviation hub and is pivotal to the continued growth of Qatar Airways – the national airline, and also the State of Qatar.  The new "Green-field" airport is situated four kilometers east of the existing airport.  It comprises two parallel runways partially constructed on reclaimed land, a 40-gate passenger terminal complex capable of handling 24 million passengers a year (opening day), a new Emiri (Royal) Terminal with additional hardstands, a cargo terminal building, aircraft hangars and associated airline and airport ancillary features, including 45,000 square meters devoted to retail space. The project also included a 2,960-hectare office and industrial park for aviation-related industry and commercial services at the airport.
MAR'S Role
MAR Development Corp. (MAR) founder was initially involved in this project through his former employer Bechtel. The scope of the contract included the planning, strategic business planning, engineering, procurement, program management and construction management of the new "greenfield" airport and its facilities covering a site approximately 2,200 hectares.  MAR staff was some of the senior Bechtel management team overseeing the NDIA project.
Scheduled for full completion in 2014, construction of the new state-of-the-art airport was originally planned to be completed in three phases.
Phase 1: included reclaiming nearly half of the site from the sea with 50 million cubic meters of fill, a 140,000 square meter three storey terminal with 24 contact gates and three road interchanges to access the new airport. Detailed design work continued through 2004 and 2005 as the site was reclaimed and construction of the new major facilities began from 2005.
Phase 2: addition of a further 16 contact gates and extension of the terminal building to 219,000 square meters and a suspended monorail or 'people mover' to transport passengers through the terminal was initiated in 2009;
Phase 3: will include 40 additional contact gates bringing the final total to 80, together with a further extension to the terminal building to 416,000 square meters and capable of handling 50 million passengers per year
NDIA will be the world's first airport to be designed and built specifically for the Airbus A380-800 – the world's largest passenger aircraft.  On completion of phase 1, the airport will be able to accommodate two A380-800s at any one time. By the time the airport is fully developed, it will be able to accommodate six A-380's simultaneously.
MAR staff also were directly responsible for the strategic business plan development and external land use development planning for the NDIA. Pursuant to MAR staff retiring from Bechtel and forming their own business entities, they were subsequently retained via their new entities by Bechtel and the NDIA, to continue with their planning efforts including strategic business planning, external land use development, and Airport Operational Readiness (AOR).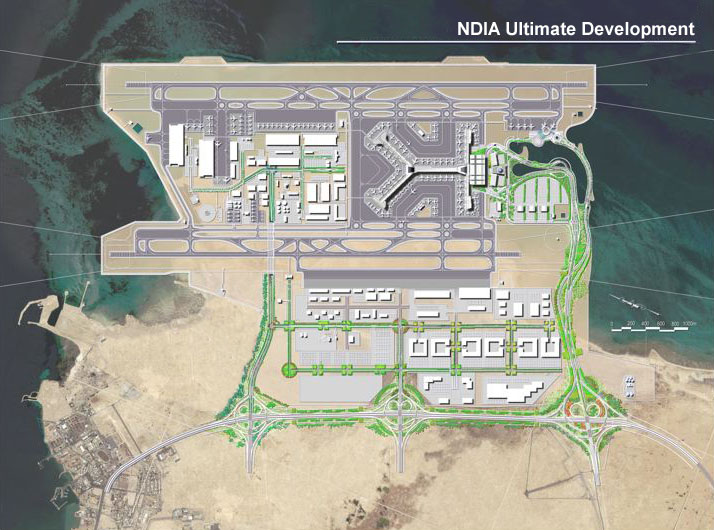 Project Location:
Doha, Qatar
Owner:
State of Qatar
Project Dates:
2004-2008
Project Value / Total Installed Cost:
$16.5 Billion
Scope of Services:
Planning
Engineering, Procurement, Program Management & Construction Management
Airport Operational Readiness (AOR)
Strategic Business Planning & External Land Use Development Planning
Significant Accomplishments:
Helped lead design team through initial conceptual design to preliminary design
Provided operational input and programming information into the design development
Provided construction monitoring services
Liaised with Owner on various business and operational matters
Successfully developed a comprehensive Airport Operational Readiness (AOR) Program for the entire airport