Operations & Maintenance Services
MAR has the ability to provide Operations and Maintenance Services via two distinct entities:
MAR Development Corp. (In-house) – Operational Readiness
Eyles AMG (our sister company) – Airport Ownership, Operations, and Management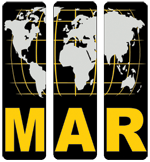 Mar Development Corp. – services include facility operational readiness by assisting the client in transitioning CAPEX projects from a construction site to an operating environment and focuses on staff training, trial operations, and the transition / relocation programs ultimately leading to business performance. MAR also provides comprehensive maintenance program development and implementation services focusing on Predictive and Preventative Maintenance Plans and efficient resource management to help customers continue to reduce operating costs and create additional value once our engineering, procurement, and construction (EPC) work is complete.
Most firms focus on the completion of the engineering, procurement, and construction (EPC) aspects of a project. MAR goes beyond this traditional delivery concept by ensuring that the client, project users, and stakeholders are fully trained and prepared to move into the new facilities and operate the new equipment and systems in a safe, secure, and efficient manner. We develop and custom tailor an Operational Readiness Plan for each project and for each unique Owner / Stakeholder to ensure a successful opening day.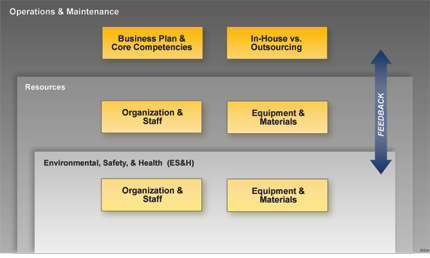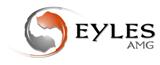 Eyles AMG – is the sister company to MAR Development Corp. and is an Airport Ownership, Operations and Management company headquartered in Dubai, United Arab Emirates (U.A.E.), with regional offices in London, and Munich. Established by a team of senior airport professionals, Eyles AMG delivers on the promise of airport infrastructure investment by bringing solutions that address the needs of airport investors, owners, operators, and governments, in markets worldwide. Our core management team is made up of top industry executives with more than a century of combined experience in operating, managing and developing some of the world's largest and most challenging airports. This expertise has resulted in a unique ability to provide a broad-spectrum approach to airport management, improving both financial returns and operating performance.
An airport is not a simple asset: it is unlike other infrastructure investments. Revenue streams are diverse, complex, and inter-related. Management content is high, and can dramatically influence results. The skills to make an airport successful are operational and management skills, retail, marketing, resource allocation, operational efficiency, and cost management. These are our hard-earned skills. They are the skills of experienced, hands-on managers with in-depth industry knowledge. They are the same skills prized in the buyout world, applied to the unique and demanding environment of an international airport.
Eyles AMG is the active management team that airport owners and infrastructure investors need. Operational experience and value-add has traditionally not been a key element of many infrastructure funds. The old model of buying, holding, refinancing and eventually selling an asset is not likely to be successful in the current economic environment. Active management with specific operating experience is necessary.
We build long-term relationships with airport investors and owners based on a risk/reward model, focused on sustainable value creation and return on investment. Aligning ourselves with airport owners / investors correctly focuses management decisions and priorities, ensuring the highest possible investor returns.
Our in-house solutions span all airport disciplines as illustrated in Table 1.1 below.
Table 1.1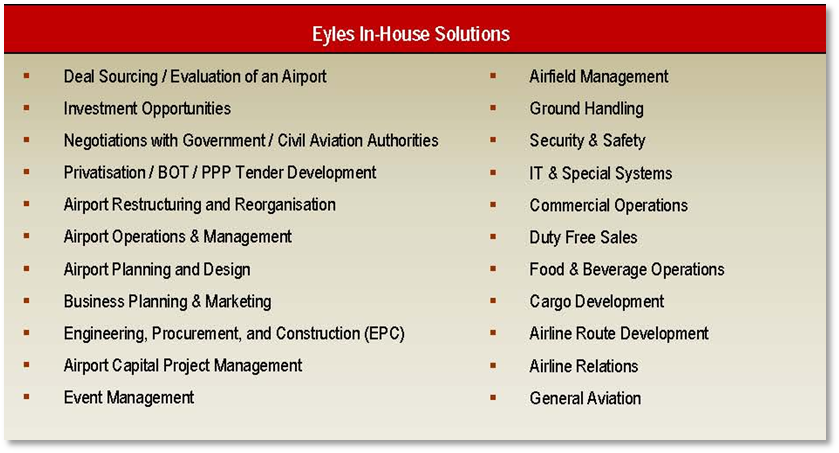 With more than a century of combined experience building, developing and managing airports – and the commercial businesses within them, the founders of Eyles AMG have a proven track record in the transformation of under- performing airport assets. That transformation is the source of value creation – taking an under-managed airport asset and through a bespoke change management program increasing efficiency and profitability.
The company is experienced in all airport-related fields, but is particularly skilled in the areas of:
Business plan development
Corporate restructuring
Organisational change / change management program
Optimising project finance
Increasing airport commercial revenue

Aeronautical revenues

Route development
Competitive pricing based on benchmark analysis
Improved contract terms & conditions driven by regulatory compliance

Non-Aeronautical revenues

Duty Free shopping
Food & Beverage
Advertising
Parking
Cargo & logistics
Other

Exploitation of the asset's inherent strategic advantages, including the development of airport land and land adjacent to the airport (i.e. the Airport City and Aerotropolis)
Increasing efficiency by:

Lowering OPEX & CAPEX costs
Improving operating execution
Promoting growth through route development

Special event management and compliance

Optimizing existing facilities to cater for increased passenger spikes, e.g. global sporting events
Eyles AMG as a Partner Provides Core Competencies along the Entire Operations and Development Value Chain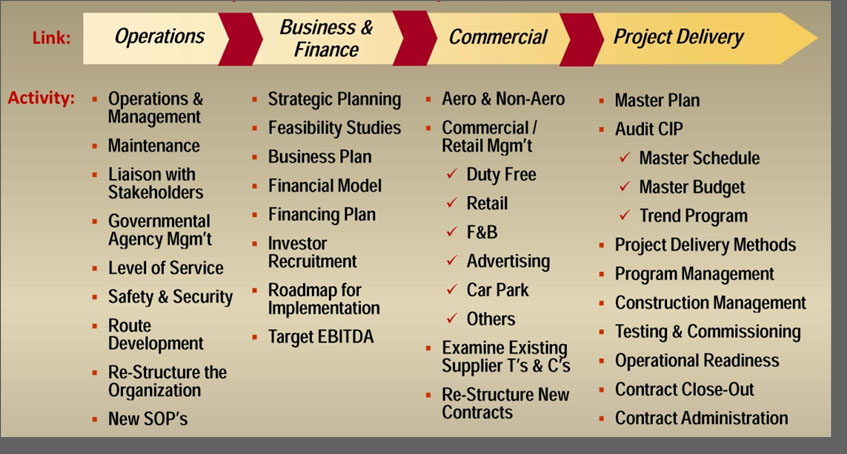 For more information about Eyles AMG and how we may be able to assist you in delivering and achieving your goals, please contact us at
Telephone:         +971 488 073 78
Email:             [email protected]
You can also visit our website at www.eylesamg.com to learn more about us.